As Qlik Sense becomes more popular, going from *.qvw to *.qvf files will likely become a more frequent task.
There is a feature built into Qlik Sense Desktop that allows you to easily convert the script, variables, and data model of a qvw file into a qvf file. However, all of your UI elements will have to be created again from scratch.
Developing everything again is very complicated and in many cases, the migration period can be a real headache. That period is usually very challenging – you'll find yourself chasing data discrepancies reported by users or QA team trying to determine the root cause. Some of those discrepancies are caused by dependency issues or a wrong schedule, some because of a wrong formula or wrong data relations, and others due to a wrong implementation or human error.
Imagine you could connect to any object in your Qlikview and Qlik Sense dashboards, validate their value, and compare the Sense value to the Qlikview one.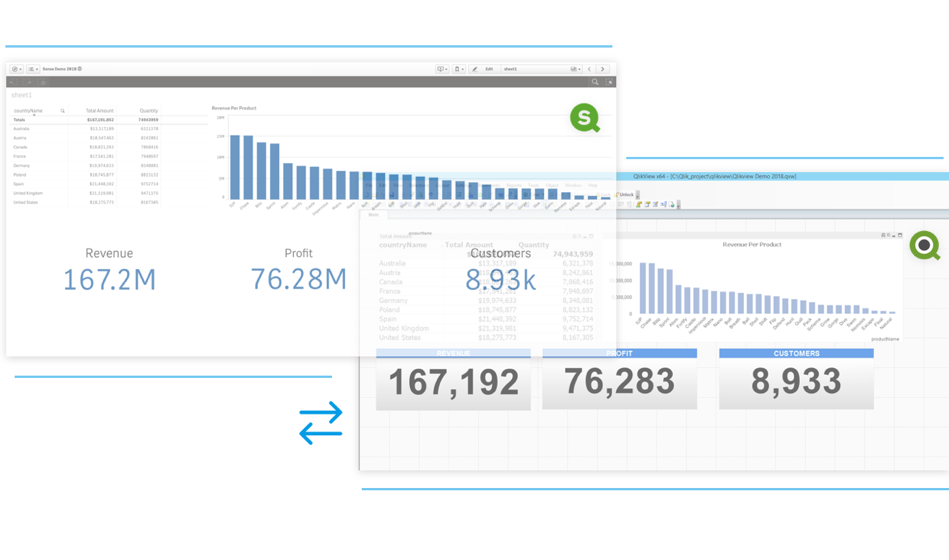 INTRODUCING QUILLIUP
quilliup is a state of the art data validation platform that can easily connect to your QlikView ecosystem in all formats (QVWs, QVDs, or QVFs). With quilliup, you can automate tests and get alerts for anomalies, data issues, or any cases you decide. quilliup has pre-defined connectors to many data sources in the market, as shown below: quilliup is the platform where your automated migration tests take place. By using quilliup, you'll be able to connect both applications (Qlikview and Qlik Sense), compare all components automatically, schedule them, and get alerted before your users/testers. That will help you to have a safe, quick, and well managed migration. Want to validate and auto-test your ETL? With quilliup you can easily connect to any data source and make sure your data is reliable. Want to hear more? Leave your details below and we'll set up a quick demo.vi